Shaping the Global Business Environment on the United States-China Trade War
Exploring Causes, Unfolding Events, and Global Impacts
Keywords:
United States-China trade war, Global trade, Economic stability, Bilateral relations, Trade imbalances
Abstract
 This paper provides a comprehensive analysis of the United States-China trade war, examining its causes, unfolding events, and significant impacts on global trade, economic stability, and bilateral relations. The research objectives are threefold: (1) to analyze the key causes and concerns that led to the initiation of the trade war, including trade imbalances, intellectual property theft, state subsidies, and national security concerns; (2) to assess how the trade war events unfolded, characterized by escalating tariffs and retaliatory measures across distinct phases; and (3) to examine the significant impacts and consequences of the trade war on global trade, economic stability, and bilateral relations, with a focus on global supply chain disruption, economic effects, the agriculture sector, technological competition, and geopolitical implications. The findings highlight the disruptive effects of the trade war on global supply chains, increased costs for businesses and consumers, negative economic consequences for both countries, challenges in the agriculture sector, intensified technological competition, and strained U.S.-China relations with broader geopolitical implications. Addressing the underlying concerns, promoting dialogue, and fostering cooperation between the United States and China are emphasized as crucial steps toward resolving the conflict and achieving a more stable and mutually beneficial trade relationship. This study contributes to the understanding of the trade war's multifaceted nature and underscores the importance of international collaboration and fair trade practices in shaping a prosperous global business environment.
Downloads
Download data is not yet available.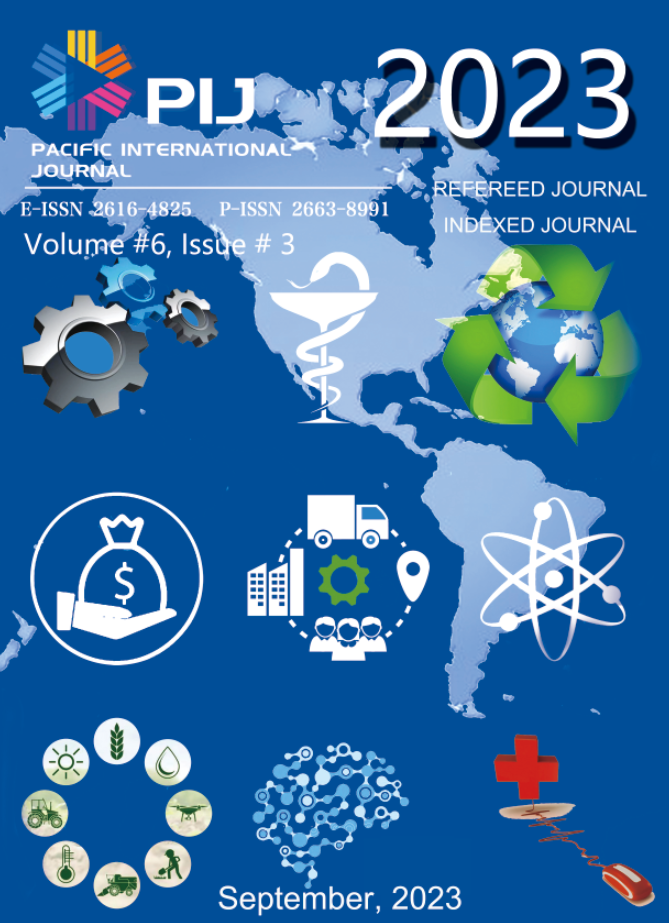 Downloads
CITATION
DOI: 10.55014/pij.v6i3.424
How to Cite
Feng, X. (2023). Shaping the Global Business Environment on the United States-China Trade War: Exploring Causes, Unfolding Events, and Global Impacts. Pacific International Journal, 6(3), 124–128. https://doi.org/10.55014/pij.v6i3.424
License
Copyright (c) 2023 Pacific International Journal
This work is licensed under a Creative Commons Attribution-NonCommercial-NoDerivatives 4.0 International License.